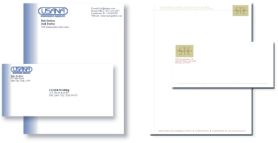 Be bold with your letters, memos and more
Let Minuteman Press North Dallas help you with consistent and effective branding, one of the keys to success in the business world. Your letterhead lets clients know you're here to stay, and makes a statement about what your company does best.
We can design and print letterhead that incorporate your personal or company identity. These can range in format from basic black & white to impressive, colorful designs. We can also create a corporate identity package for you, with an integrated system of business cards, letterhead, and envelopes.