A Printer of COVID-19 Signs & Banners
The spread of coronavirus disease 2019 (COVID-19) is causing many businesses to make big changes to their daily operations. These changes must be communicated to customers and employees, shareholders, and other important stakeholders. If you need to communicate information about coronavirus COVID-19, or about changes to your business operations, we can help. Minuteman Press North Dallas can design and print flyers, brochures, banners, direct mail campaigns, or any other type of communication you need to get critical information out quickly and effectively.
COVID-19 MATERIALS FROM CDC
Minuteman Press North Dallas is offering a selection of print-ready materials, furnished by the Centers for Disease Control, for reproduction in a variety of sizes and formats. We can also add your logo to personalize this for your business. These materials that can be displayed and/or distributed to your employees, customers, members, patients, etc. to ensure that everyone understands their role and responsibility in containing the spread of COVID-19.
Businesses of all types are encouraged to post information on how to stop the spread of illnesses to others. Flyers on proper handwashing techniques and how to avoid spreading germs should be posted in restrooms, break areas, kitchens, and anywhere people prepare, handle or consume food.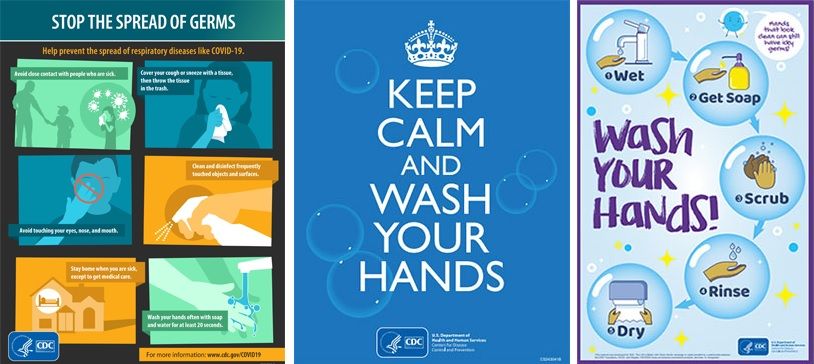 Additional information from CDC about COVID-19 symptoms, how coronavirus is and isn't transmitted, and what is being done to contain the disease can be particularly helpful to stop the spread of misinformation.

Minuteman Press North Dallas can also help with the following:
Restaurants Signage & Take-Out Menus
Retail checkout leaflets
Posters/Signage
Indoor/Outdoor Banners
Direct Mail
Graphic images/ads for internal distribution
Minuteman Press North Dallas can help you keep your customers informed and keep your business top of their minds during these challenging times. Contact us today at (972) 392-1899.