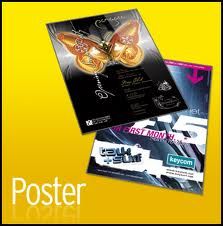 Do you ever ask yourself "where can I get high quality poster printing near me"? Unless you own a special oversized printer, you can't create your own posters at the office - that's out of the question. If you want to do most of the work yourself, you can design a poster on your computer and send it to an online printer or office supply store for printing. But who has the time or creative skills needed for that? Fortunately, Minuteman Press North Dallas is nearby, ready to handle your poster printing needs.
We offer poster full service, full color poster printing in a variety of large-format options such as 12" x 18", 18" x 24", or 24"x 36". Based on your input, our experienced designers can recommend fonts and visuals that will create eye-catching, informative posters.
Minuteman Press North Dallas offers many poster printing options and we can help you choose the right poster for your needs. A glossy finish will make the most of vibrantly colored designs. If you need to minimize glare, you may want to select a semi-gloss or matte finish. If it will get a lot of use, you may choose to have your poster printed on heavyweight paper or add a foam backing for extra durability. If your poster will be displayed on a wall or table, we can add a convenient hanger or easel back.
Whether you need to make a big impression, convey information, or just give a wonderful gift, a large-format, full-color poster from Minuteman Press North Dallas is the right choice for maximum impact.
If you are looking for banners or signs to go with your printed color poster, we can cover your printing needs. See our banner printing and sign printing pages for more information.